Robert Vlach is out to change the world for the better, the freelance way
He is the founder of one of the largest national freelance communities in Europe, as well as an EUpreneur (as he puts it), a sought-after business consultant and a top expert on freelancing. He is also the author of The Freelance Way, a European bestseller that has just been translated and published in English. We took this opportunity to interview Robert about the book and everything he does to support freelancers.
You must have been extremely busy finishing the English edition of your hugely successful bestseller. What's next for you and the book?
Very busy indeed, as you can imagine. My new book The Freelance Way: Best Business Practices, Tools & Strategies for Freelancers was published on June 25, 2019 by Jan Melvil Publishing. I say new, because the changes made to the original Czech manuscript were quite fundamental. Part of the first-edition prints will go to publishers in 40 countries around the world, including the USA, the UK and most of the countries in the EU. We would like to approach them to offer translation rights, with the new English edition being used for the translation. The ebook is already available worldwide on Amazon Kindle, Google Play and Apple Books. In print however, we prefer to work with established local publishers of self-help and business literature. By the way, if you know some who might be interested, you can point them out to me or on the website FreelanceWay.eu.
Making those fundamental changes must have been quite a challenge. What were some of them and what was the most interesting part of this work?
Sure enough, it was one of the most rewarding and most demanding projects of my life. But it didn't seem so at first. After the success of the original 2017 Czech edition, I agreed with my publishers to have the book translated into English. However, we soon realized that an 800-page publication would be hard to sell abroad. That's why I decided to rework the book from the ground up for an international audience, which took me half a year. After that Erik Piper, an English native speaker, took the next step by doing a superb translation, which took another six months up to Christmas 2018. And then finally, I had to go through editing the final manuscript for six more months with an excellent editor Scott Hudson and made it to the finish line with the eagle-eyed proofreader Katie Perkins.
It was a very intense collaboration that enabled us to fine tune the entire manuscript down to the level of individual words and their meaning. Our goal was to make it fully understandable for non-native readers with at least an upper-intermediate level of English. Thanks to them and all this extra work, I can stand 100% behind the book and our work. In total, I have added more than 350 changes, images, practices, sources and examples from various countries including recommendations from world-class experts like David Allen, Adam Grant, Austin Kleon, David H. Hansson and others. We all gave it our best.
"The Freelance Way is likely the most comprehensive
book for freelancers ever written."

You are well-known as a digital nomad with substantial international experience, but how did you research facts and trends from other parts of the world?
A freelance business can be broken down into three more or less independent levels: 1) expertise, i.e. what clients want, 2) administrative obligations, i.e. what any government wants, and finally 3) business and related skills that include what the freelancer wants. Beginning freelancers are often afraid of the legal and administrative obligations, because these are often discussed in the media. However, the reality is that in most countries this level is usually less demanding and less important than the other two. Today, many freelancers simply outsource their accounting and taxes to experts and available surveys confirm that this isn't something that bothers them too much. Quite the contrary, working on their expertise and running their business is the real issue here. And it is quite remarkable that the prerequisites for succeeding as a freelancer are basically the same everywhere. And these haven't even changed much over time.
Free trades have been around at least since Roman times. Today, an independent professional needs to be just as good at handling money, delivering quality, reliability, time management, client care, building their reputation or creating reserves, as were those professionals 2000 years ago. The business know-how I have described in my book is pretty universal, which was confirmed by a thorough peer review, during which the manuscript was commented on by experienced freelancers from other parts of the world. Here and there I have expanded or added some advice, or mentioned a local exception to the rule, but these were not the major changes.
However, I added illustrative examples from various countries, data from a number of globally available surveys or analyses, and amended my arguments where they might not have been clear enough for people with other cultural backgrounds. The resulting book is international to such an extent that a general reader would hardly guess its roots. Anyway, I quoted mostly American and European sources and included anecdotes from freelancers active on these markets.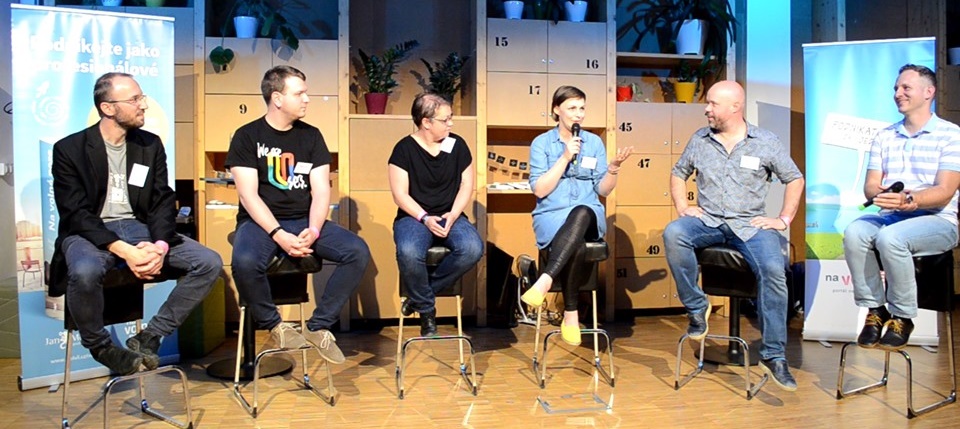 Robert Vlach (right) on a panel debate at Impact Hub Prague in 2019
You founded the largest Czech freelance community called Na volne noze back in 2005, which is already quite some time ago. Do you still enjoy taking care of it?
Absolutely! Supporting fellow independent professionals in business is still something I consider to be a vital part of my professional calling. Besides, it's rewarding work with amazing people, whom I personally feel lucky to meet and to get to know, something you must know by heart here at Impact Hub. Freelancers are truly great — free-spirited, self-sufficient and active, exactly the kind of people I like best.
The greatest challenge for me as a coordinator of such a vast community has been not to get burnt out over the years, due to having such intense contact with so many people (literally thousands of them over the last 14 years). Stepping into this role has been both very beneficial and demanding. That is why I have brought only awesome colleagues on to the team and why I take winters off in a warm climate with my family, where I can rest and do something else for a while. This way, I'm all the more looking forward to coming back and meeting all my freelance friends.
Could you say a bit more about your freelance community Na volne noze?
Na volne noze is pretty big. We support approximately 150,000 freelancers in the Czech Republic, including a number of Prague-based expats. Our activities include everything from maintaining the most-used directory of Czech freelancers, a popular business blog, a number of very active social-media profiles (e.g. on LinkedIn we have a following similar to Czech biggest brands), a video blog, and podcasts, to organizing numerous events for meeting offline, in the real world — from regular trainings, meet-ups and annual gatherings for freelancers, to the very first freelance think tank in Europe. Most Czech freelancers have a chance to benefit from what we do as a community in one way or another.
The core of our community are 1,000 members, who pay an annual fee to present their services in our directory and participate in our events to meet new colleagues, build up contacts and start useful collaborations. One of our greatest strengths is connecting and recommending independent professionals, because we have been following their careers and have known many of them in person for years. On a daily basis, we receive recommendation requests from journalists, event organizers and others who are seeking experts for particular assignments — and we are happy to direct them towards established and proven professionals. What hasn't changed that much is our team. I am very picky about its members, most of whom then have decided to stay on for good. Over the years, we have become really good friends. We deeply trust each other and each of us has our own business activities.
"I still attend all our events in person, it is important
for me both professionally and personally."

You are also a member of Impact Hub, one of our ambassadors so to say. What do you like about our concept and why do you work in our workspace?
Impact Hub is an extremely thoughtful and well-organized concept, which is something I know personally as a member of Impact Hub Ostrava. I have also been closely following the growth of coworking as a phenomenon since its beginnings and maintain a directory of Czech coworking spaces at Coworkingy.cz, so I can really compare who is good at what. And Impact Hub is exceptional in many ways. Besides being a network of spacious venues, I appreciate your excellent community support and professional management, as well as how long you have been able to maintain such a high level of quality of service. I believe that with communities, just as with businesses, sustainability and persistence are quite fundamental signs of quality.
I have seen many beautiful coworking spaces open and close down and you surely know best how long it takes to build up a reputation and a level of trust, which enables deeper collaboration. I think that through your stability, the Impact Hubs have created spaces that people have come to trust and perceive as a sort of pillar for their own growth and development as professionals. This is how all my favorite coworking spaces including Impact Hub operate — these are the kind of places I enjoy coming back to again and again. Where I feel like I am at home, among people cut from the same cloth. I have never had an office myself, because I am moving all the time with my work, so being a member of a coworking space is a question of identity — a sort of pride of belonging to somewhere.

Robert is a sought-after guest of debates and talk shows — such as this Let's Talk About event
You are also an organizer of the annual Coworkings Open House event, what is it about?
This is a national event, where all of the participating coworking spaces (there were more than 60 this year) open their doors to visitors and newcomers for a day. The goal is not only to attract new members, but also to raise awareness among the general public. Most people still don't have a clue as to what coworking spaces are specifically good for and their use among freelancers and remote workers hasn't grown as much as was originally expected. Most keep on working from home or other places, such as in work-friendly cafés. But this is exactly where coworking offers something extra that even the best specialty cafés don't — the company of like-minded people, a friendly and familiar base for one's activities, a real community… For example, I am very fond of working in cafés, especially when I'm writing, but even the friendliest barista wouldn't talk about business with me. Coworking spaces provide not only the space itself, but also a proper context to get together and create possibilities as well as new business ideas. The Coworkings Open House event serves as our annual reminder for the general public that these spaces are here to help everyone.
What are your plans for the upcoming months and next year?
Now that the book is finished, I have scheduled some larger consulting gigs. As a business consultant, I work mostly with established independent professionals and business owners. For example, this summer I will be working on rebranding a traditional workshop manufacturing wool duvets and bedding that belongs to Zuzana Bilkova, the 2018 Czech Business Woman of the Year. Her new brand is called Besky, a beautiful name referring to its origin in the Beskydy Mountains. We will also be redesigning the Na volne noze website and I am looking forward to reaching agreements on the translation rights for The Freelance Way with foreign publishers. Here, I am very glad to be represented by Jan Melvil Publishers, not only as my publishers but also as my literary agent.
Together, we have started to look for the right literary agent or agency in the U.S. to partner up with and getting my book onto bookshelves. I would personally like to see us, in the near future, approaching publishers in countries like India, Brazil and others in South America or Africa, where I think freelancing and my book The Freelance Way could help many people to get out of poverty. Freelancing doesn't require much in the way of capital, it is a business approach based mostly on skills and knowledge. Many freelancers only use their computer or mobile phone and an internet connection as their working tools, and these technologies are ever more available even in the poorer parts of the world. Good business know-how may not only help these people to negotiate better prices and terms for their work, but also to sell their skills and expertise on a much bigger, or even the global market.
---
Robert Vlach is a senior business consultant, specialized in supporting independent professionals and business owners. In 2005, he founded one of the largest national freelance communities in Europe and later, in 2012, Europe's first think-tank for freelancers which meets regularly in Prague and other cities. He has been holding freelancing courses for more than a decade, and has consulted on over 300 business cases with individuals, startups, and companies. Robert lives with his family in the Czech Republic and Spain. For details and updates, go to Vla.ch
The Freelance Way is THE business book for independent professionals. It presents the best available and fully up-to-date freelance know-how, compiled from hundreds of quality sources, including surveys, the latest market data, advice from world-class experts such as David Allen, Adam Grant, Austin Kleon and David H. Hansson, as well as real-life experiences and stories from hundreds of professionals in different fields and countries. All this makes the book highly relevant to freelancers worldwide. For news and more, go to FreelanceWay.eu.
Back to all posts