Imre Jernei – Our Member and Graphic Designer for the Rich and Famous
Imre Jernei, who works under the Ziijn brand, is our proud member. He presented at the Ostrava MashUp where he impressed us right away. Imre has used his creative mind when working with members of the world's most famous bands, Grammy winners and top-level athletes for whom he created instruments as well as promotional materials. From Hungary, where he was born and where he grew up, he headed to Great Britain to discover the world and mainly himself.
"I studied journalism and that was my first official profession. I worked in radio for 8 years for different radio channels as a presenter, and also in television. In the meantime, I also studied PR and marketing communication with specialization in branding at a university," says the Hungarian-born designer to introduce himself.
One day, Imre decided to leave his job and move to Great Britain. For adventure and to discover the world and himself. "Once I visited Birmingham, I discovered that my English was far from good. Next time when I returned to settle for a while, I took various job that helped me not only improve my language skills but also earn money to finance some further studies," says Imre who worked as a waiter, a member of the theatre cleaning crew and a fast food staff member.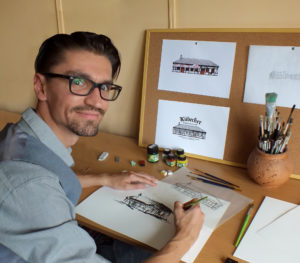 At the same time, he studied modern art, design and graphic design. He started by designing shoes, bags and was active on the street art scene. "Together with classical art, it was such an influence for me. I wanted to be an artist and I knew that this would let me combine what I learnt with what I like to do. So I started focusing on design," says Imre thinking back.
Metallica, Prince, David Bowie …
After completing his studies in the UK, he received a job offer from Germany where he continued his life journey for the next 4 years. "I worked for a famous guitar and bass guitar company. I was in charge of many interesting projects and had various duties. I also got a chance to cooperate with many famous people, musicians, Grammy award winners and so on," says Imre who got to enjoy the presence of Larry Graham (from Graham Central Station and one of the best bass guitarists for Prince), Stuart Zender (Jamiroquai), Robert Trujillo (Metallica), Adam Clayton (U2) and guitarist Earl Slick (worked with David Bowie, John Lennon and Yoko Ono, the New York Dolls). He designed instruments and other promotional materials for many others, even though he never met them.
"Many of them I actually never met. An assignment to design a product, an instrument for them simply landed on my desk. But in reality, I was cooperating with those who were actually taking care of things for them. And then I just saw photos of the person holding the guitar or the bass guitar that I designed in their hands during a concert. And that was a great feeling," describes the artist who meanwhile gained more experience in the largest amusement center in Florida, USA.
Olympic clothing
After returning to Germany, he received another offer, this time from the world of sports. He designed products for the famous brands Uvex and Alpina. In this field, we were once again able to admire his work on many pro athletes, mostly those competing in winter sports and cycling. "Here, I had the chance to meet with Marcel Kittel, the sprint etap winner of the Tour de France, and Felix Neureuther, an Olympic winner. I got his helmet from him, it was my goodbye present," says Imre sharing his memories.
After that, Imre met his future wife in Germany, they got married and moved to Poland where he started his own business. A few days ago, his company celebrated its 3rd anniversary. It serves clients from all over the world. "The Internet and technologies allow us to cooperate remotely. I have a lot of work now, I have several clients in various project phases. I will soon have to find someone to work with," explains Imre. "I will also have to decide which way to go – whether towards design and creativity or to put more emphasis on building relationships with clients," he adds. "If you or someone you know wants to cooperate, has a project where I could help, would like to ask my opinion about their visuals, brand or design or simply wants to talk about design, I am here to help."
Before the actual creative work, Imre spends a lot of time with his clients. "If they find me through referrals, they already know my work. They know what I do and how I do it, how I think about design and branding and that is why they choose me. They know that I do not accept any half-baked solutions, I go in depth and want my clients to put in the effort, to get to know themselves, their product and brand. So that it is not just about making money for them but to make sure that know their vision and why they do what they do," says Imre pointing out that making the extra effort always pay off and the return is well worth the time spent in the beginning.
If someone wants to cooperate, have a project and looking for a design solution or simply wants to talk or ask Imre's opinion about their visuals, branding, design, they can contact him.
You can see samples of his work on his website or his Facebook page.
You can listen to Imre on this MashUp recording.
Back to all posts